Although we enjoyed the ideal weather in July ( I warned you I was way behind with progress updates) we were still waiting for the roofers to return to finish off the garage, porch and boiler room rooves. Once completed the render can be applied and then painted. We are also waiting for the electrician to come and complete connecting the light switches and sockets, so we can have light and power. This would certainly help with the tangle of assorted extension leads around the house.
The front of the house is finally being cleared of rubbish and transformed from building site to drive. We hired 'grab' lorries to take away the enormous pile of Earth, brick and stones. Although not cheap, these lorries can remove and takeaway far more debris than skips, which is more cost effective in the long run. Our eight yard skip ( one of many to be hired from this company during the whole renovation) was now full to bursting, and I rang the company to collect it and to hire another in exchange. The company I had used had recently been bought by another larger waste management company, who had no record of me, my skip, account number or address, so wouldn't come and remove it. They asked if I was sure it was their skip, to which I replied, it's bright red with your company name painted on the side. Despite this, they still insisted that the skip didn't belong to them. Not sure what to do with a full skip sitting in the drive, I asked for their advice. One man suggested I pay for the skip to be removed and emptied. I had already paid for this service when I first hired the skip, and was not going to pay again. I suggested to them that as I required another skip, and they couldn't find my account, that I would have to go to another skip hire company for them to collect the full skip and deliver another, and that the new company could keep the skip. I was told that I couldn't do that, as the skip didn't belong to me. (Well I had paid for it, and you keep telling me it doesn't belong to you). Over several weeks phone calls were exchanged, and became a source of amusement to everyone on site. In the meantime, I hired a skip from a different company so we could continue with clearing the site. Eventually they found my account, and came to collect the skip. Quite a cheer went up! I was asked if I wanted another skip, but declined their offer, it was too much like hard work.
Some of the earth left at the front of the house was piled up with a digger to form a raised bed, in front of the hedge, and a retaining barrier was created using sleepers which were bolted together for strength. A stone slab footpath was laid to one side, for ease of wheelie  bin maneuvering on collection days.  Dragging a heavy bin over gravel is no fun. One was poured and spread over the cleared drive area and flattened with a whacker plate to form a base for 20 mm pea shingle to be spread out on top to form a drive. What a difference, the whole front facade was transformed. It actually looked like a drive. We spent another sunny Saturday planting  some herbaceous plants in the rear garden with my mum. Although her gardening days have gone, she enjoyed directing us from her wheelchair, and a day in the garden was enjoyed by all.
A Saturday was spent sorting out numerous stacked boxes, containing, what would be the fitted kitchen. First we separated the unit door fronts from the carcass's into different piles, and set to constructing the units as per instructions. Each one was labeled on completion with masking tape for identification purposes, and roughly placed as per the kitchen plan. We needed a quiet day, without interruption or people wandering about, so we could concentrate. The cupboard fronts were left packaged and safety stacked until the units had been fitted to the walls. The majority of our kitchen order had arrived as promised, apart from the dishwasher and hob, to which we received no reason for non delivery from the suppliers. The washing machine did arrive, although damaged, so was returned, with the promise to deliver another within the week. Needless to say this didn't happen, and after several weeks of phone calls I eventually returned to the shop to chase not only the washing machine, but also the hob and dishwasher. Fortunately this did not delay the initial unit fitting. Apparently the washing machine delivery people didn't think we still wanted the washing machine. Really? Why would we purchase something that we didn't want? The washing machine finally arrived the following week. The dishwasher was crammed into the rear of my car, but we had to wait another two months for our chosen hob, as there was a manufacturing fault which had to be corrected.
The kitchen at least was beginning to look like a kitchen, albeit with a temporary ply work top and no splash backs. But to have running cold ( still no hot at this stage) water from the sink was luxury indeed. We're constructing our own central island unit, with a 'pop up plug'.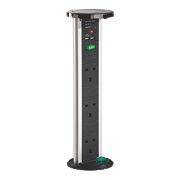 http://www.screwfix.com/c/electrical-lighting/pop-up-sockets/cat6040010     This plug can be pushed in and out of the work top when required, comes with a useful USB port,  and has been designed around standard available units. The kitchen cannot be completed with kick boards until the flooring has been laid.
The kitchen flooring cannot be laid until the glass partitions have been sourced and installed. I have scoured salvage sites, Ebay and  companies specializing in steel framed doors and partitions.The former drew a blank due to available sizes and difficulty in transportation. The latter much too expensive. Discussions with different trades on site on other possibilities was solved by our excellent carpenter Tom, who suggested using Tulip wood and staining it, and put us in touch with a local small family run joinery company called Goodwood  Joinery. We had drawn out a scaled plan, which Tom then re measured which were sent to the joiners. There was an 8- 10 week delivery lead time, and we would need to order and put in our own safety glass, and stain it ourselves, but we had plenty of other work to carry on with, and the partitions only delayed the finished floor being laid. With lots of trades in and out of the house, this was probably fortunate.
The central boarding has been removed and wooden spindles inserted into the original aperture, so we can retain the original oak banister rail. These will be a time consuming job to paint, but has opened the space, and allows for more light through the  hall.
The roofers arrived! They have now completed the tiling on the remaining rooves. The electrician arrived! I shrieked a thrill of excitement when the lights went on, and we could finally boil the kettle from a wall socket, rather than disconnecting someone's tool, or worse radio!